FALL INTO A HEALTHIER YOU!
14-Day Whole Food Detox Group Cleanse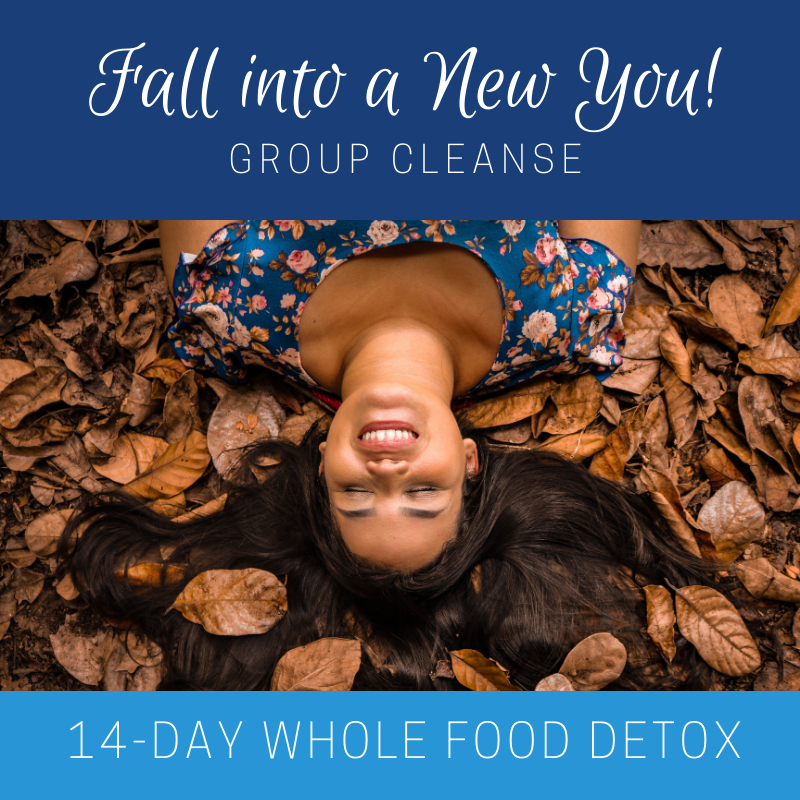 Starts: Thursday, November 5th

Ends: Wednesday, November 18th
Get $30 OFF if you sign up by end of day, MONDAY, November 2nd!
Use Coupon Code: EARLY30
Why May You Need a Cleanse or Detox
Do you get bloated after eating?
Do you tend to gain weight easily especially in your belly?
Do you have extra pounds that won't come off with diet and exercise?
Do you have headaches more than occasionally?
Do you frequently belch or feel gassy or gurgling in your belly?
Do you tend to feel lethargic during the day?
Do you have cravings for sugar or starchy foods?
Do you experience mood swings or anxiety?
Do you have difficulty focusing or experience foggy brain?
Do you have allergies or hayfever?
Do you experience pain, muscle achiness, or stiffness in your joints?
Do you feel addicted to foods that you know aren't good for you... and yet you can't stop?
Do you feel anxious, upset, nervous, or downright cranky?
If you answered "Yes" to any of these questions, you would greatly benefit from this cleanse!
The program is EASY, FUN and can totally be done around your busy schedule! We get to eat REAL FOOD and no supplements or pills to take. 😀
WHAT YOU GET:
• Exclusive Online Live Zoom Classes on Day 1 describing the WHAT and the HOW and a final zoom on how to successfully carry this new way of eating into your every day life
• Private FB Group Access with daily support, accountability, and answers to all your questions by Certified Wellness Coach, Tonya Warfield for the full 14 days!
• Official PDF cleanse booklet with detailed instructions and information about the cleanse process, plus extra pampering ideas to help you feel your best
• Recipes for breakfast, lunch, dinner, snacks and DESSERTS! - (NO supplements, powders or pills to take!) - Based on Dr. Mark Hyman's 10-Day Detox
• Handouts, checklists, and go-to cleanse friendly recipes
• One private 30-minute phone Strategy Session with Tonya

PLENTY OF TIME to Prepare and Discover What Foods Work for Your Body:
- 4 Days to Prepare
- 7 Days of Clean Eating
- 3 Days of Re-introduction of foods that may cause symptoms of allergies and toxicity
Afraid you won't follow through? DON'T WORRY! Your coaches have set up the program so you have INEVITABLE SUCCESS and we will be in the group day in and out providing support and accountability. 🙂
WHAT RESULTS CAN I EXPECT?
Build confidence about what to eat! You will learn what really works for your body and how to implement it in ways that are actually enjoyable, fun and delicious. No magic diet pills, but time-tested approaches that work well for busy, active individuals.
You'll experience more energy, and enjoyment of food, your body and life. You will have clearer skin and shiny hair. Get ready to have that healthy glow! Feeling and looking great leads to a profound satisfaction that emanates into all corners of your life. When you are taking care of your health your life blossoms.
Transform your knowledge into SUSTAINABLE ACTION so that taking care of your health becomes a part of your lifestyle.
Get inspired in the kitchen! Learn how to make quick, delicious, EASY, healthy meals without sacrificing flavor. Cooking healthy doesn't have to be a big burden or take up all your time. Simple and easy solutions that anyone can learn.
You will also make some new friends along the way! In the group cleanse, you will get to know each other through this unique experience and enjoy a safe and supportive environment where you can enjoy the cleansing experience and not feel alone, scared or frustrated in the process.
Here are some of the amazing results participants had in the last group:
• Discovered food sensitivities
• Better sleep
Testimonials:
"I lost 4 pounds and an inch in the waist and feeling pretty great. Among her many talents, she is very knowledgeable, inspiring and her instruction was very effective in showing me the right and wrong foods to eat and their purpose as well as learning their benefits and understanding why exercise is important. I would recommend this program to assist and inspire anyone hoping to lose a little weight and inches and in going forward with a healthier, clean eating lifestyle. Thank you Tonya!" —Connie M.
"Tonya is a great health coach, very motivated and inspirational! She definitely got me motivated!!!" —Jennifer S.
"Tonya was an invaluable asset to helping me make simple changes in my diet that resulted in improved health." —Beth D.
WHAT IS A CLEANSE?
A good cleanse should help you detoxify your body so you can feel your best, but not starve you or leave you feeling deprived.
Helps build your immune system so you can continue to be your healthiest.
Gives you energy and improves your skin and hair so you feel great and have that healthy glow!
Foggy Brain? Tell it Good Riddance! It improves your thinking and helps you think clearer.
Cleansing helps you figure out what may be going on with your body, and most importantly WHY. Ailments such as digestion issues, inflammation, dry mouth, weight loss plateau, bloating, fatigue, mood swings, adult skin breakouts, and more, and what to do about it.
Cleansing in a group setting (private FB group with strict confidentiality rules) allows you to have a group of people who are doing it with you! Providing each other with the support and accountability most people lack just when they decide to quit. You will have someone to reach out to for support and help keep you on track.
Cleansing with REAL food gets you outside of your "food box" and you will discover new HEALTHY recipes that you will continue to make and will become some of your favorite new recipes to cook!
This 14-Day Whole Food Detox is PERFECT for those interested in having support around your health for a much lower price and shorter time frame than a 1-on-1 coaching package.
Starts: Thursday, November 5th

Ends: Wednesday, November 18th
You get ALL OF THIS, a value of $447, for ONLY $67 - Early Birds get $30 OFF if you sign up by end of day, MONDAY, November 2nd --->>> after, price goes up to $97.